Sale!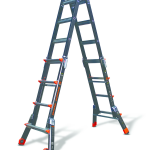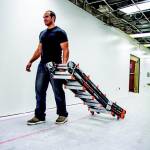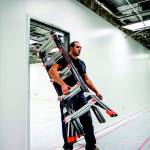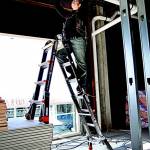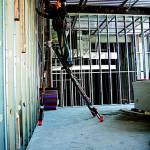 Little Giant Fibreglass Dark Horse Ladder (Model 17)
$895.00 inc GST
or 4 fortnightly payments of $208.75 with
More info
Description
The Dark Horse Fiberglass Ladder is the only Multi-use Fiberglass Ladder on the market.
* CLICK HERE FOR DARK HORSE DEMO VIDEO
With its proprietary Non-Conductive Black Resin-Fiberglass composite it is a prefect choice for the electrical professional or anywhere extra ladder safety is a concern.
The Dark Horse Fiberglass is made of High-Strength Materials that provides extra Strength and with its extra Wide Flared Legs at the base of the Ladder gives you a feeling of Stability and Comfort like no other Fiberglass Ladder.
The Dark Horse Fiberglass Ladder is the most versatile fiberglass ladder on the market. It telescopes from a short compact storage postion to a tall A-Frame Fiberglass Step Ladder in one foot increments. Also in an A-Frame postion you can work in stairwell postions with one side short and the other side long. Against a wall you can work in a 90 degree ladder postion. It swings straight to a telescoping Fiberglass Extension Ladder. It can separates into two trestles for a portable Scaffolding setup with the aid of the trestle brackets and a work plank.(sold separately)
Little Giant Ladders Systems makes the Dark Horse Fiberglass Ladder in three sizes. model 13′ model 17′ and the model 22′ all with a 1 year warranty.
Model 13 – UPC # 15143-001   3′-5′ A-Frame   7′-11′  Extension height
Model 17 – UPC # 15147-001   4′-7′ A-Frame   9′-15′  Extension height
Model 22 – UPC # 15145-001   5′-9′ A-Frame 11′-19′  Extension height
All models come with the Tip and Glide wheels factory installed on the Dark Horse Fiberglass Ladder.
MAKE IT EASY – GET YOUR LADDER DELIVERED.
|   | Model 13 | Model 17 | Model 22 |
| --- | --- | --- | --- |
| Weight capacity: | 300-lbs. | 300-lbs. | 300-lbs. |
| Ladder weight: | 38lbs. | 49 lbs. | 56 lbs. |
| Extension height: | 7′-11′ | 9′-15′ | 11′-19′ |
| Stepladder height: | 3′-5′ | 4′-7′ | 5′-9′ |
| Storage height: | 3'7″ | 4'7″ | 5'7″ |
| Width at base: | 22.50″ | 25″ | 28″ |
| Max scaffolding height: | 3′ | 3′ | 3′ |
| Max workbench height: | 3′ | 4′ | 5′ |
| Warranty: | 1 Year | 1 Year | 1 Year |