Sale!





Ladamax 150KG 2 Step Fibreglass Platform Ladder (G) – 2″ (0.6m) Aust Made FPS5/2G
inc GST
Description
One of the many reasons Ladamax is the preferred brand for industry professionals and tradies is thanks to our exclusive failsafe designs. Our superior platform design incorporates three lines of safety for maximum protection on all Ladamax products ensuring our users are never at risk or in danger.
Not only do all of our products meet the standard safety rating AS 1892 of 150kg but our platform and warehouse ladders have been load tested by our in-house manufacturing team and proven to take loads of up to 500kg without warping or bending making them far superior and the number one option when it comes to reliable safety.
SAFEST DESIGN IN THE WORLD
FIRST LINE OF SAFETY
Platform
Our extended platform is made from aluminium (not plastic) to ensure it lasts when exposed to the harsh Australian UV climate. Additional rib support is included to add extra support and strength while m12 solid fasteners connect to the side rail.
SECOND LINE OF SAFETY
Tread + Swagelock
Our Swagelock step tread design is unparalleled in the industry fully supporting the the platform and ensuring failsafe protection and support for users when up in the air. In the event of a huge overload Ladamax step tread will only bend unlike others which may collapse completely. Double hollow extrusion is in place to maximise strength on every Ladamax platform within our range and increased tortional rigidity and reduced twist (with no rivets to shear) add an extra level of safety.
THIRD LINE OF SAFETY
Platform Double Bracing
Under each and every Ladamax platform are front and rear double bracing which connects to the step tread and side rail ensuring a third line of support at all times reducing twist and sideways movement and increasing the overall safety for users.

Description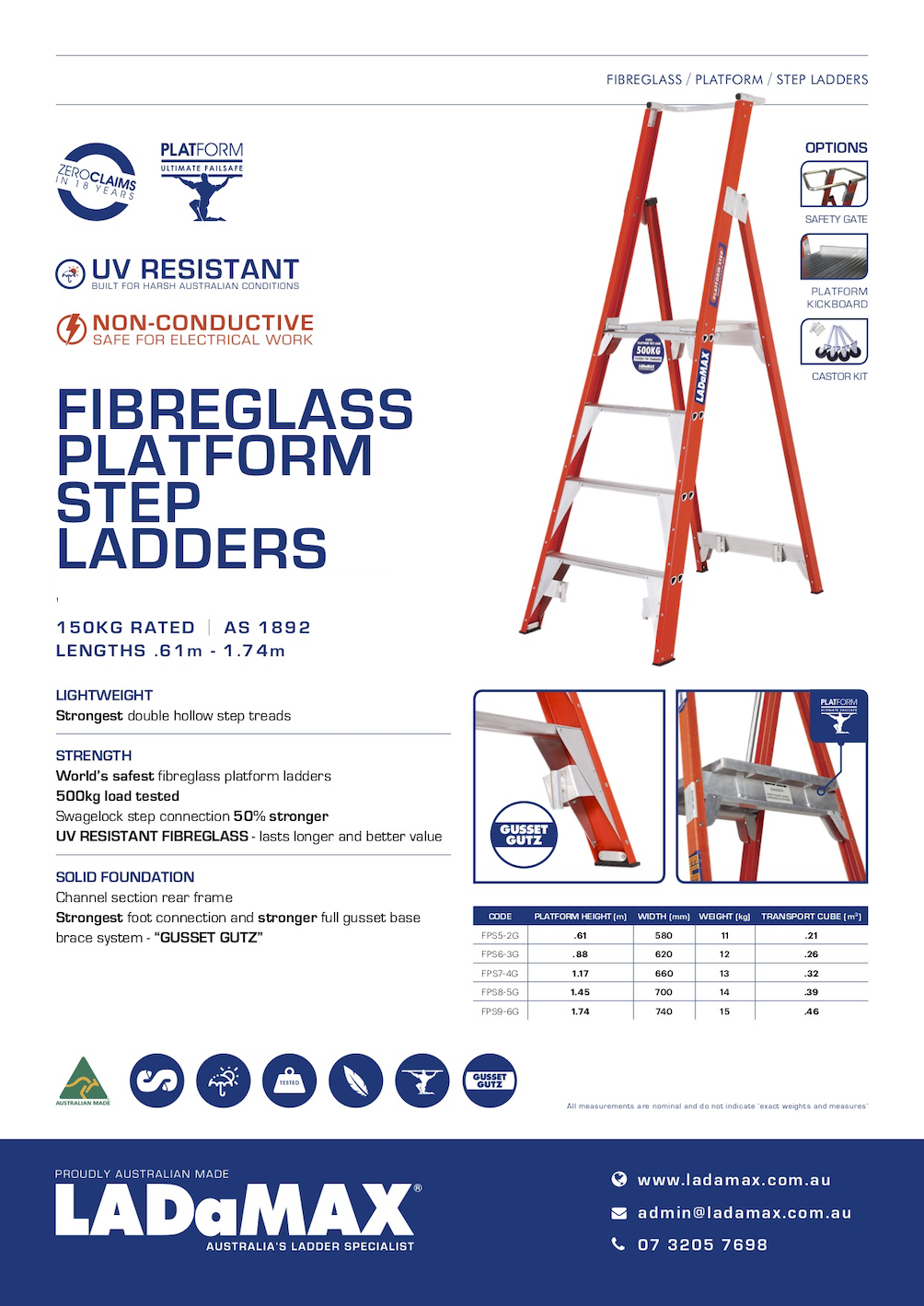 | | | | | |
| --- | --- | --- | --- | --- |
| CODE | HEIGHT (m) | WIDTH (mm) | WEIGHT (kg) | TRANSPORT CUBE (m3) |
| FPS5-2G | .61 | 580 | 11 | .21 |
| FPS6-3G | .88 | 620 | 12 | .26 |
| FPS7-4G | 1.17 | 660 | 13 | .32 |
| FPS8-5G | 1.45 | 700 | 14 | .39 |
| FPS9-6G | 1.74 | 740 | 15 | .46 |