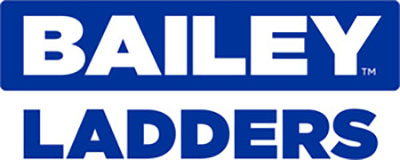 Sale!

Bailey Professional Punchlock Fibreglass Step Extension Ladder 7ft 2.09m – 3.73m FS13986

inc GST

Sale!

Bailey 3.7 – 6.5m 150kg Industrial Rated Pro Punchlock 12 Aluminium Extension Ladder FS13899 (Super Special)

inc GST

Sale!

BAILEY Professional Punchlock Fibreglass Double Sided Step Ladder 4ft 1.2m – FS13978

inc GST

Sale!

BAILEY P170 Job Station Aluminium Platform Ladder 4 Steps 1.2m FS13539

inc GST

Sale!

Bailey 4.4 – 7.8m 150kg Industrial Rated Fibreglass FSXN Pro Punchlock 14 Extension Ladder with Vee Bracket FS13920

inc GST

Sale!

Bailey 3.7 – 6.2m 150kg Industrial Rated Leveller Pro Punchlock 12 Extension Ladder FS13906

inc GST

Sale!

BAILEY Retail and Office Aluminium Platform Ladder 3 Steps 0.85m FS13869

inc GST

Sale!

BAILEY P150 Aluminium Platform Ladder 6 Steps 1.8m FS13583 (Super Special)

inc GST
Bailey ladders for at home and on-site
Whether you need a Bailey step ladder for maintenance around the house or for warehouse work, our friendly team can help you find premium quality products at the best prices possible.
We have a variety of industrial-use Bailey ladders, including the order-picking ladder which features a large and stable work platform, high-visibility rails and a gate to make working at any height safer and more efficient. Need to clear out the rain gutters? One of Bailey ladders' most popular products is the extension ladder, and with ladders reaching up to 9.8m in height you won't have any problem reaching the roof. And if you're after a ladder with a long reach that also offers a stable place to work from, check out our range of Bailey platform ladders. These platform ladders provide ample reach and a safe platform to stand on, perfect for painting walls or ceilings. We also offer an extensive range of Bailey ladders' spare parts, including Bailey ladder feet.
When you shop our online collection of Bailey ladders, we guarantee fast and affordable shipping no matter where you are in Australia. We also work with a range of third-party depots to offer free pick-up options, so you can simply pop around the corner and get your Bailey step ladder in Sydney, Melbourne, Brisbane, Adelaide or Perth. Got questions? Get in touch today for expert help on choosing the right Bailey ladder for your needs.
"At home or on site, Bailey Ladders has got you covered
Our Range
Single-sided Bailey ladders, double-sided Bailey ladders, dual-purpose Bailey ladders, Bailey platform step ladders, Bailey order picking ladders, Bailey extension ladders, Bailey modular access systems, Bailey fibreglass ladders and mobile scaffolding.